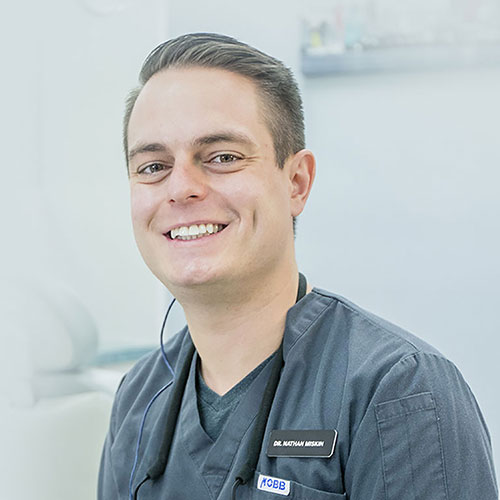 Dr. Nathan Miskin is a caring and compassionate professional who truly loves dentistry. Dr. Miskin earned his Doctor of Dental Surgery degree from Western University in 2018 and joined North Centre Dental in November 2019. He always thoroughly explains all aspects of your oral health and ensures that every experience is a positive one. Dr. Miskin is interested in all aspects of dentistry and is great with patients of all ages. He is licensed with conscious moderate sedation to offer a combination of oral sedation and nitrous oxide (laughing gas) for anxious patients.
In his final year of dental school, Dr. Miskin received two major awards: the London & District Dental Society Award and the Dr. Igor Bolta Memorial Award in Restorative Dentistry. These distinctions are awarded to one fourth-year student for clinical and academic excellence.
Volunteering and supporting people without access to dental care is very important to Dr. Miskin. He first participated in a mission trip to the Philippines, where he was able to bring modern dental care to groups of people in need. In June 2018, Dr. Miskin travelled to Guatemala City, where he provided dental care to the locals and gained valuable experience with surgical wisdom tooth extractions.
Dr. Miskin currently lives in London with his wife Emily, daughter Ayla, and their dog Tucker. They are all proud to be part of the growing London community they call home.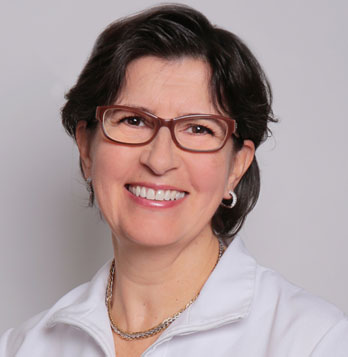 Originally from Northwestern Ontario, Dr. Liliane Le Saux has been practicing dentistry in London for over 30 years.
North Centre Dental is like a second home for Dr. Le Saux – welcoming and family oriented. She believes in forming a lasting relationship and bond with every person who comes into our dental office.
Dr. Le Saux is a graduate of Western University's School of Medicine and Dentistry. She is an active member of several dental associations including the Canadian Dental Association, the Ontario Dental Association, and the London & District Dental Society.
Apart from her life at North Centre Dental, Dr. Le Saux enjoys cooking, keeping physically fit, and spending time with her husband and three children. She also speaks French fluently, and is a founding member of the local Optimist Club in her community.
Our Mission
North Centre Dental is committed to providing you and your family with modern dental care of the highest quality. Our goal is to uphold a standard of service that makes patients excited for their next visit.
Each time you enter our dental office, our primary concerns are: your happiness, your comfort, and your health. Using the latest technology available, we deliver comprehensive treatment with early detection and diagnosis of any oral issues.
Your First Visit
Along with your smile, please remember to bring your completed patient information forms and your insurance card. Regular checkups are an essential part of preserving a healthy smile!
To keep your teeth and gums healthy, the Ontario Dental Association recommends visiting your dentist for regular checkups and routine teeth cleanings every six months.
We understand that you have a busy schedule; so when arranging your first visit to our office, please remember that appointments can last between 45-60 minutes.
Meet the Team
Learn about our amazing office staff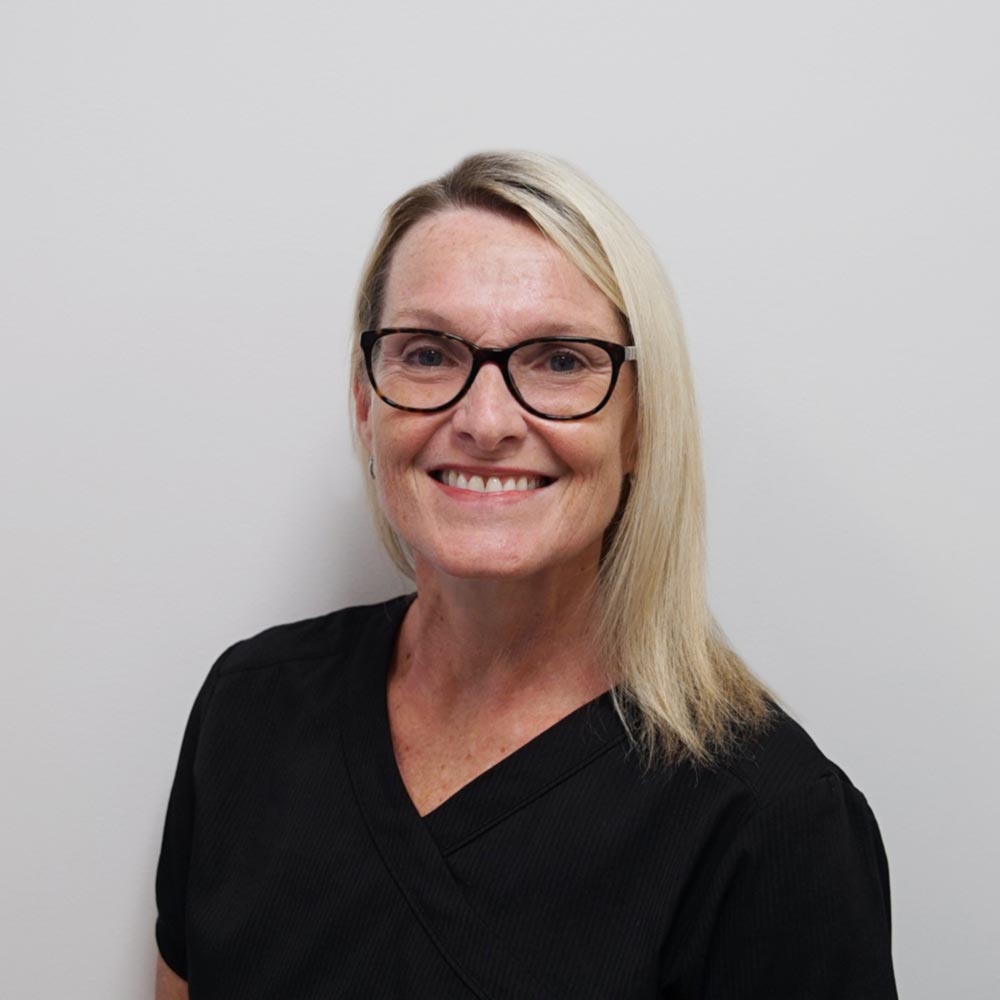 About Me
---
Annette has been in the dental profession for more than 30 years. Her vast experience and personable nature makes her a great asset to our team. She takes pride in providing ongoing periodontal therapy and educating her patients on the importance of maintaining good oral health. Annette is caring and strives to always make her patients feel comfortable and at ease throughout their appointments. She is a strong believer in continuing dental education and participates in seminars and online courses on an ongoing basis.
When Annette is not busy keeping her patients healthy, she loves spending time with her husband and two children. Annette also enjoys scrapbooking, reading, and attending book club, as well as walking and spending time by her pool in the summer months.
"Our patients can expect to get the utmost of professional dental care when they come to North Centre Dental, along with an enthusiastic and knowledgeable staff."
Sandra
Dental Assistant Admin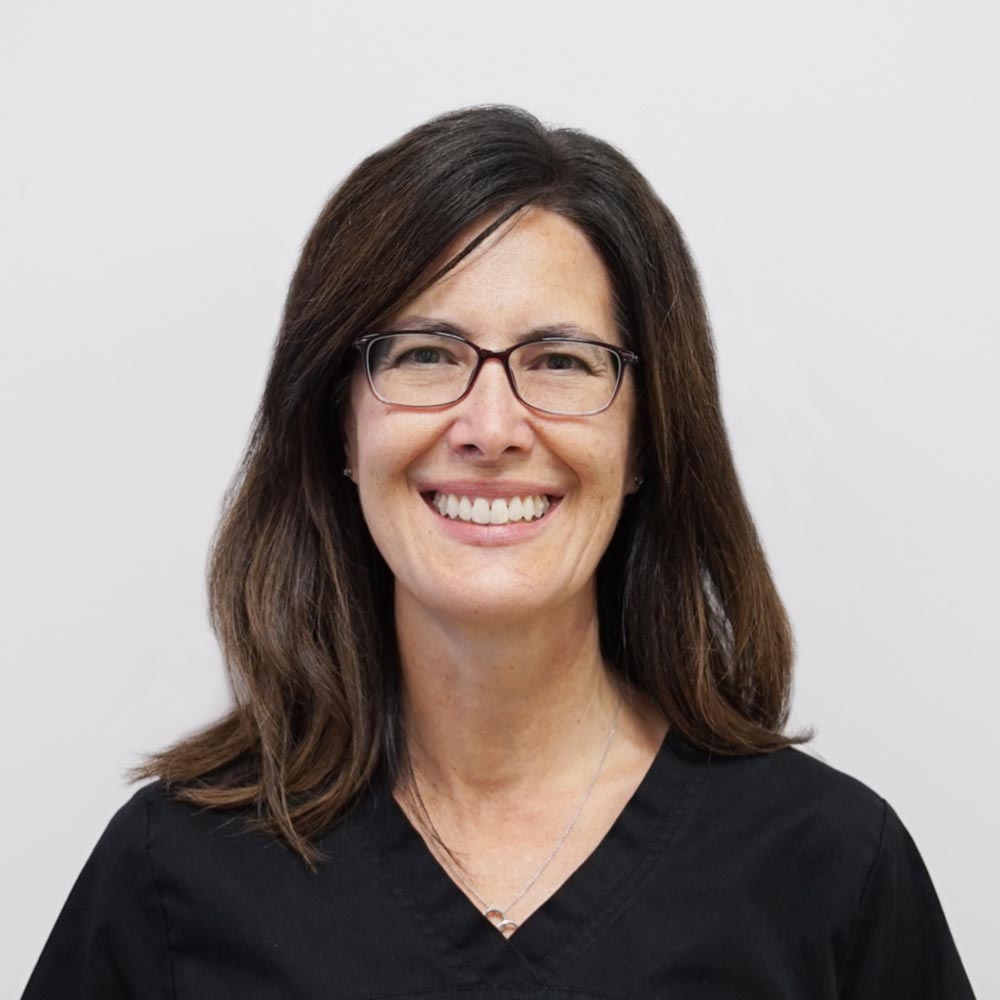 About Me
---
Sandra has now been with North Centre Dental for more than 16 years. Her friendly approach and commitment to oral healthcare are why our patients are so trusting and comfortable with her.
Sandra has spent the last year incorporating her abundant clinical skills and knowledge into the delivery of treatment plans for patients, as well as working alongside our administrative team. While having enjoyed working 'chairside' for 15 years with Dr. Le Saux and Dr. Miskin, she now enjoys applying her previous experience to this new position.
Outside of the office, Sandra always makes time for family and friends. She particularly enjoys spending time with her two sons. Sandra also loves to cook, garden, read and keep active outdoors.
"Our patients can expect a very thorough experience when they come to North Centre Dental, provided by a very supportive and compassionate team."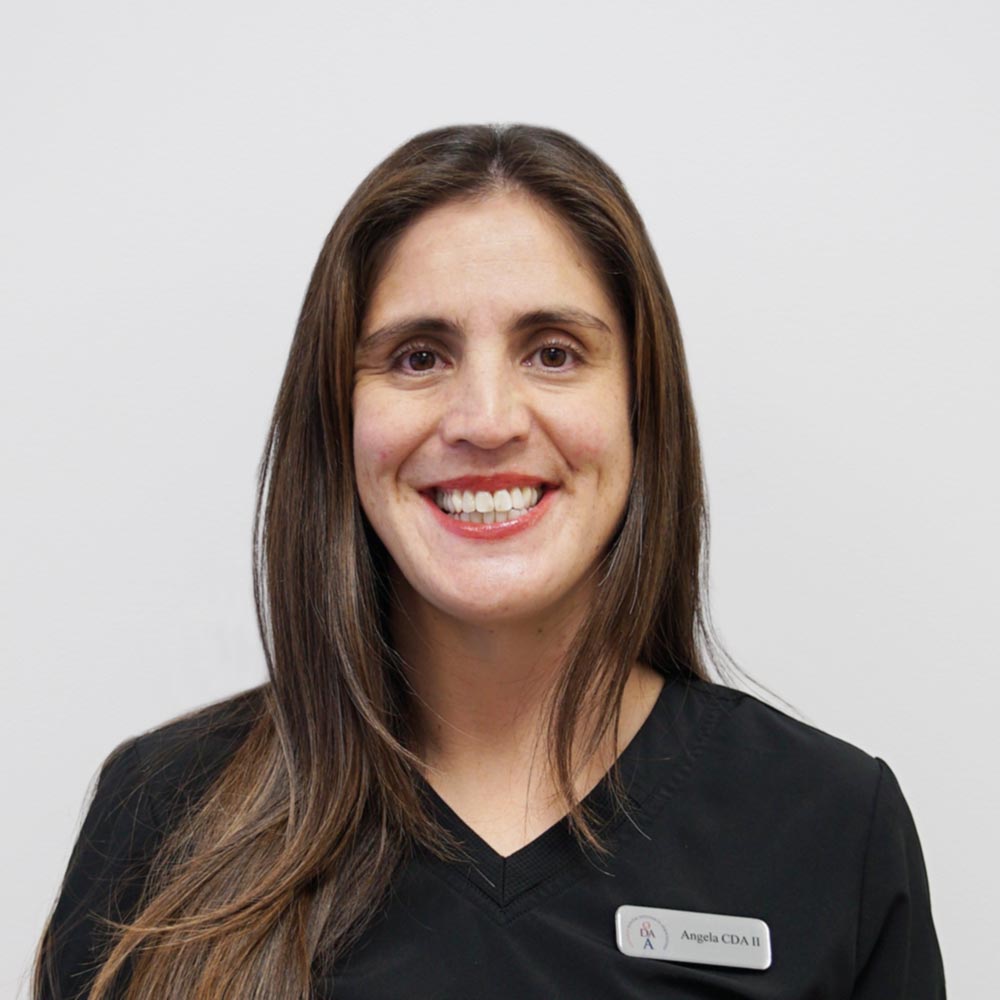 About Me
---
Angela has been a dental assistant for over eight years and has been working at North Centre Dental for more than two years. She started dental assisting in the Yukon and now lives with her family in London. Originally from Colombia, Angela is fluent in Spanish and English. When Angela is not helping our patients, she can be found spending time outdoors with her husband, their two daughters, and their puppy Emma.
"I love making sure our patients have a fun and easy dental experience. We always do our best to offer the highest level of care."
Alex
Dental Assistant Admin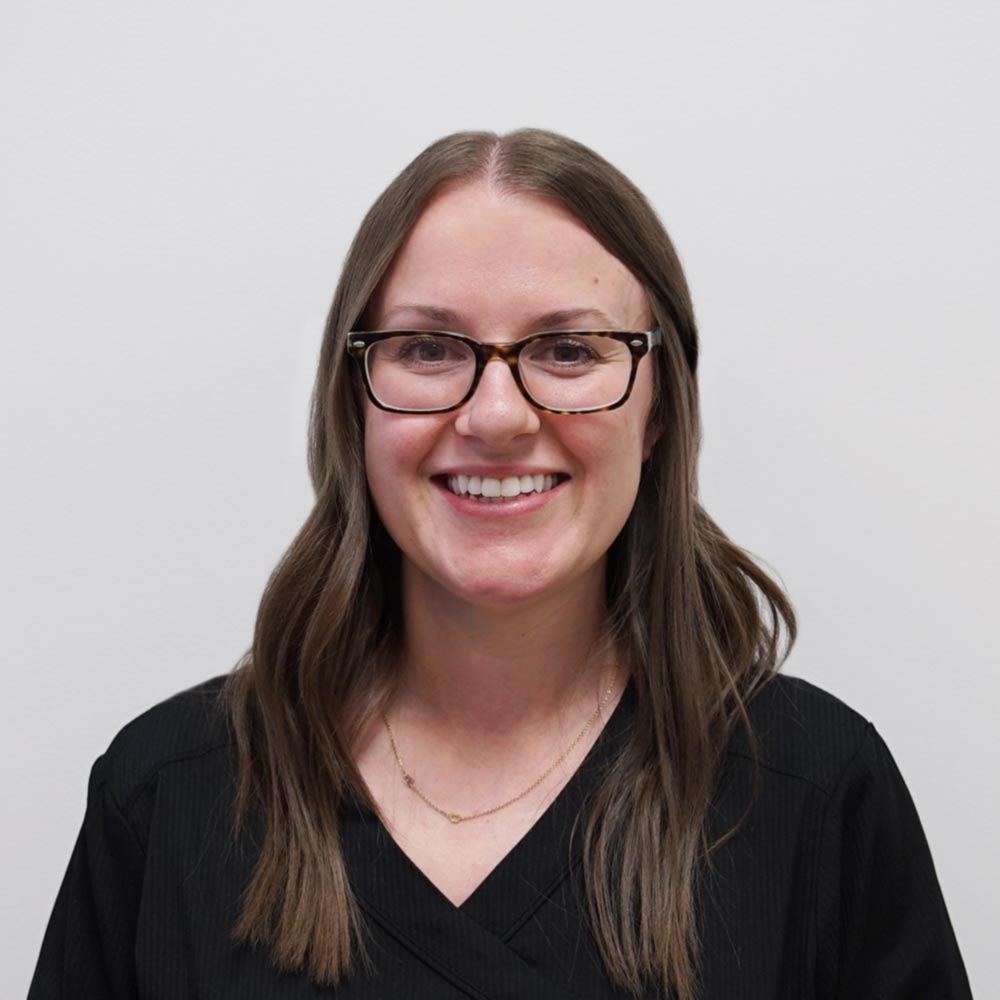 About Me
---
Alex is a Dental Assisting graduate from Fanshawe College who has been part of our team for two years. Always eager to help our patients at the front desk, Alex has found tremendous enjoyment in the administrative side of dentistry.
When Alex isn't attending to our patients and their dentistry needs, she enjoys spending time with her growing family and friends.
"I love the people I work with and the patients I interact with and educate. Our team has a great attitude and passion towards dentistry and helping others!"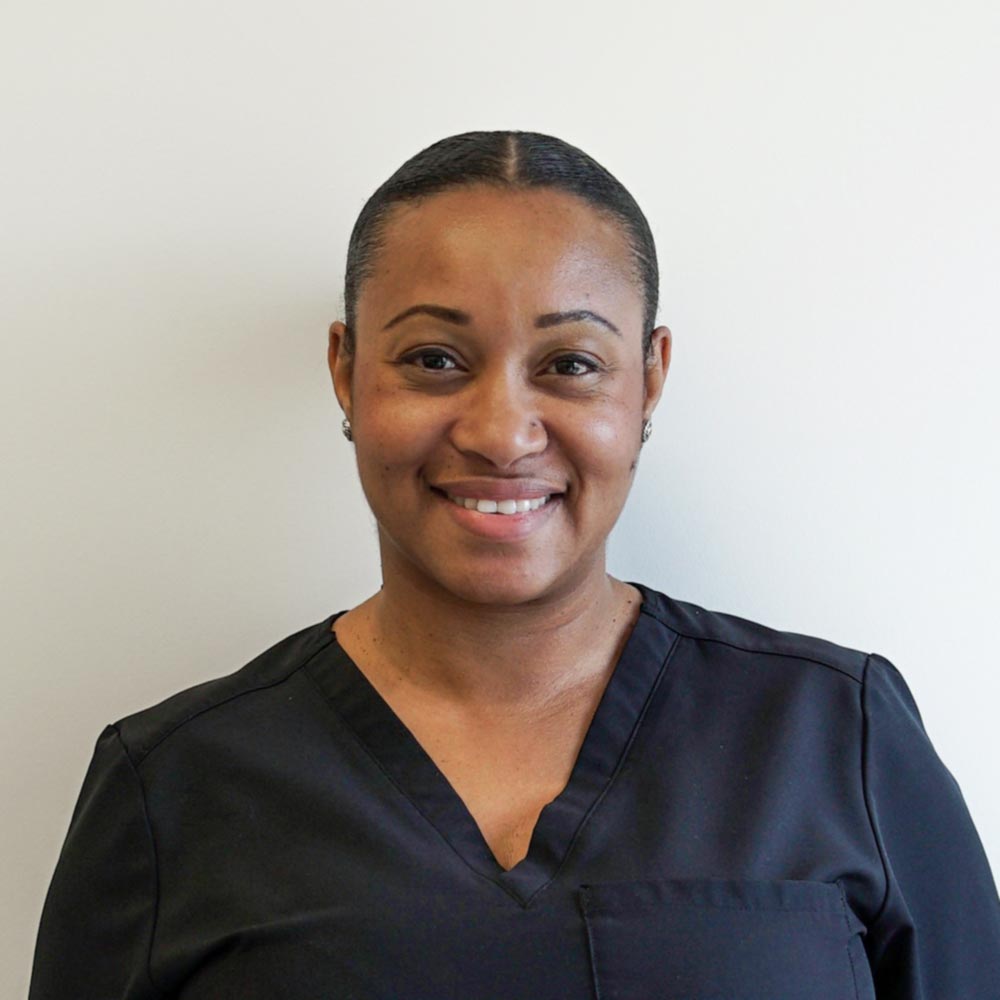 About Me
---
After six years working as a dental assistant, Gelena's impressive knowledge shines through every day as she helps our team members care for patients. Her passion for dentistry comes from a love of making people smile. She believes that by helping patients optimize their oral health, they will feel more confident to show off their teeth. The more people smile, the happier they feel, which is one of the many reasons Gelena is so dedicated to assisting our team, and patients.
While she helps us with everything around the office, Gelena's favourite responsibilities are taking impressions and designing models of our patients' teeth. She finds it very satisfying to create a physical representation of someone's smile. When she is not assisting our team, Gelena most enjoys reading, as well as playing basketball or baseball. Gelena also loves to explore London; she says that the architecture and size of the city reminds her of when she used to live in the Bahamas.
"My job is all about keeping you comfortable to make sure your experience at North Centre Dental is always a great one."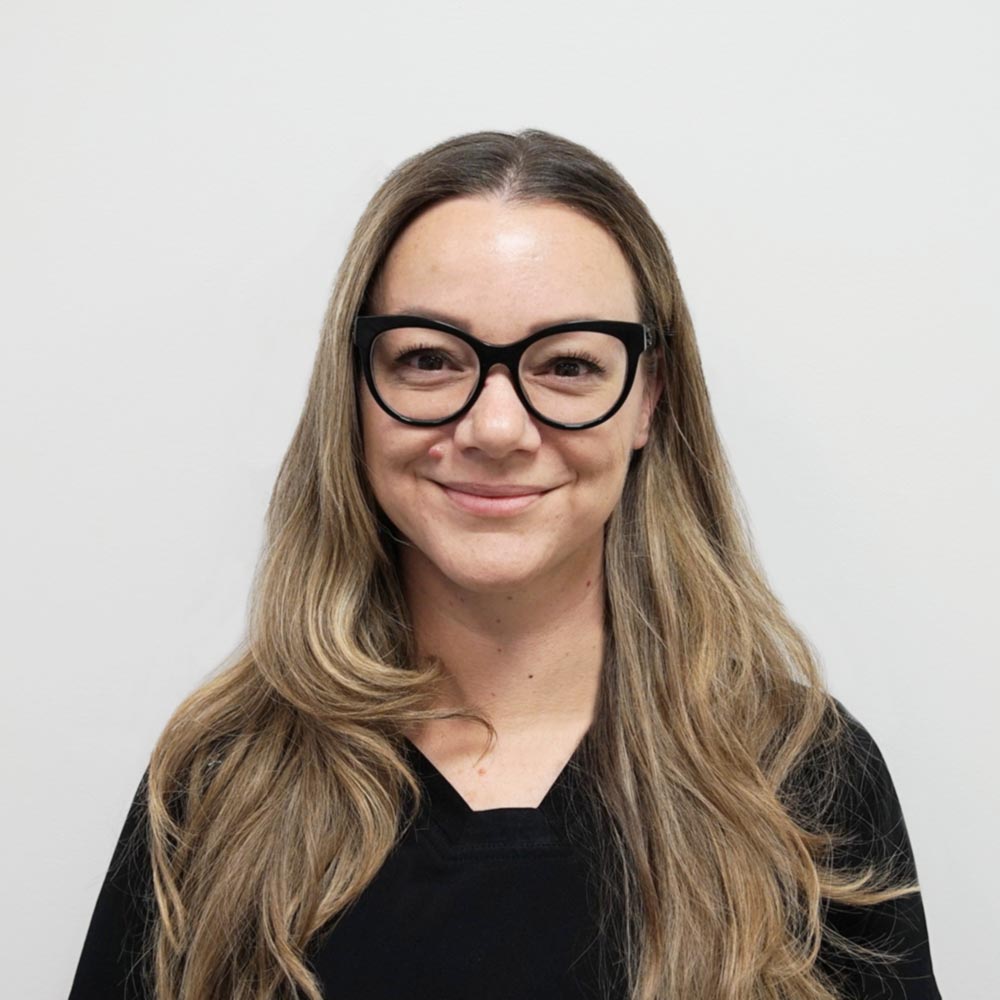 About Me
---
We were all very excited to have Nicole join the North Centre Dental team as a hygienist in March of 2023. For the past 20 years, she has been dedicated to ensuring her patients stay comfortable while she cares for their teeth. Nicole uses her abundant knowledge each day to educate patients about their oral health. This helps ease their minds while she conducts dental treatments or cleanings. Her patients are always excited for their next visit since Nicole creates a relaxing environment that makes dentistry easy.
Outside of the office, Nicole loves to travel the globe. Before beginning her position, she lived in Southern California for four years, and then Singapore for two years. She then came to London, Ontario where she connected with North Centre Dental. Nicole loves exploring cafes in Wortley Village, or visiting the Western Fair District Market to find the best local produce.
"I love working with patients each day because I get to meet new people and help brighten their smiles."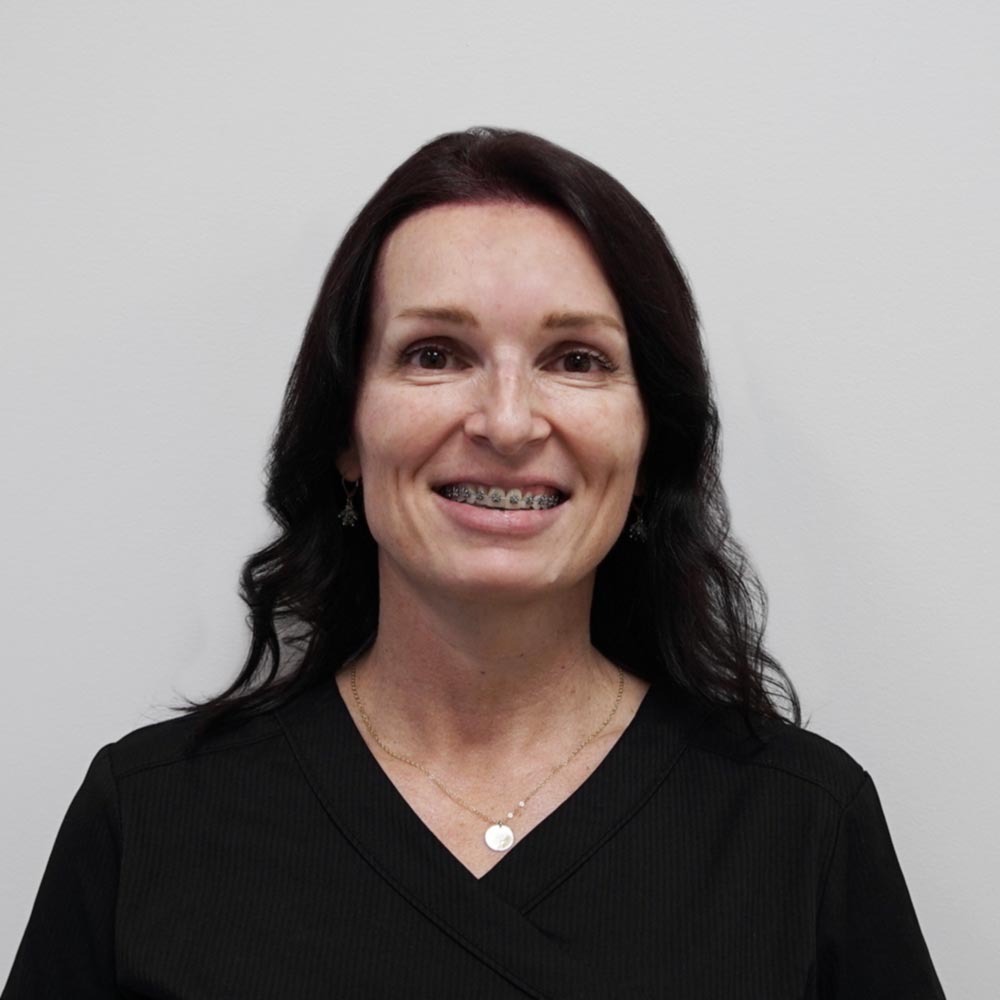 About Me
---
Carla is one of our incredibly passionate team members who loves to help patients transform their smiles. As a dental hygienist, she has a positive impact on each patient's oral health through professional cleanings and preventative care. Carla has always enjoyed visiting the dentist; even as a child she loved the feeling of getting her teeth cleaned. She was also raised in a family who primarily worked in the medical industry, which led her towards dental specialization.
Throughout the past 18 years as a hygienist, Carla's comforting personality has helped so many patients truly enjoy visiting the dentist. By getting to know every person sitting in her chair, she always figures out the best way to put their mind at ease and create a relaxing environment. When she is not at the office, Carla stays active with yoga, paddleboarding, and pilates. She is also a foodie who loves to explore London's diverse variety of great restaurants.
"I have always loved going to the dentist and I want each of my patients to be as excited about their oral health as I am."
About Me
---
Since coming to North Centre Dental in February of 2023, Shincy has quickly become an integral member of our team. She began training as a dental assistant five years ago, after arriving in Canada from India. Shincy then realized just how much she loved working with patients and getting to know them better. Seeing a genuine smile always brightens her day, which is why Shincy is constantly striving to make each patient happy during their appointment.
She most often assists with prepping our treatment rooms, cleaning tools, and helping around the office in any way she can. Shincy most enjoys working alongside our dentists to implement crowns. She finds it very rewarding to restore a patient's smile with the perfect dental prosthetic. Outside of the office, she loves gardening, travelling, cooking South Indian dishes, and relaxing in the quiet parks throughout London.
"Your smile not only makes you happy, but it also brightens the mood of those around you."
Emily
Dental Assistant Admin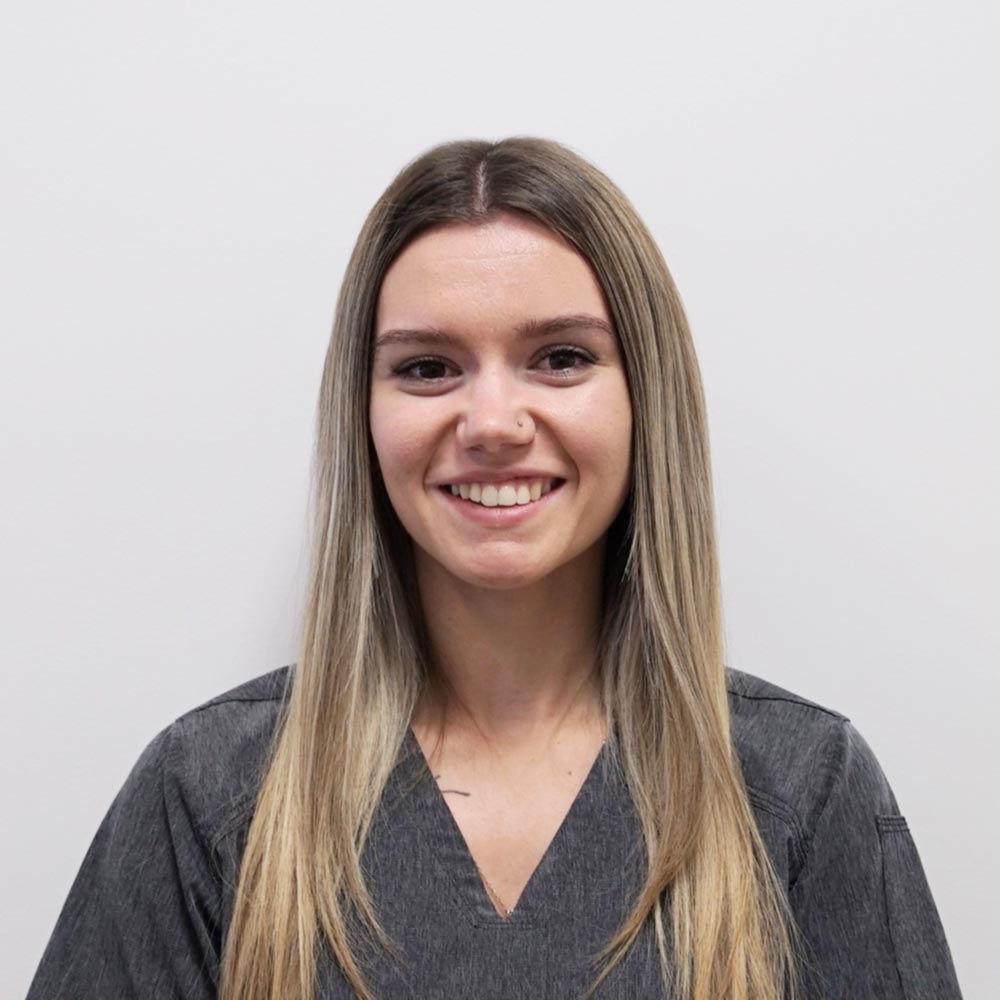 About Me
---
Emily is one of our incredibly knowledgeable front-desk receptionists who has worked in the dental industry for nearly three years. She has been an amazing addition to the North Centre Dental team since beginning her position with us. Emily is a professionally trained, level 2 dental assistant, which means she can help our patients with any questions they have while scheduling their appointment.
At a young age, Emily had a fear of visiting the dentist that she worked to overcome. This led her to the dental industry, where she helps others do the same each day. While at the office, Emily greets patients, coordinates their next appointment, and assists them with any insurance-related questions. When she is not at North Centre Dental, she most enjoys getting on the water with a SeaDoo or paddleboard in Port Stanley. At home, she loves spending time with her two cats, Onyx and Moto.
"We keep our patients comfortable at every step of their appointment, so no one has to be scared of the dentist."
Dental Care for the
Whole Family
Everyone has a unique set of teeth. We treat patients of all ages, with any dental history.
Dental Care for the Whole Family
Everyone has a unique set of teeth. We treat patients of all ages, with any dental history.



We are a Full-Service
Dentistry Practice
Our team of dedicated, caring professionals is specially trained in the latest techniques and procedures of pain-free dental care. We have over 30 years of experience with all types of dental care, from orthodontics to teeth whitening. For highly specialized procedures, we work with a number of top-tier specialists. We take great pride in providing comprehensive and effective dental solutions.
Get In Touch
Learn what our team can do for your teeth!
Office Location
235 North Centre Rd.
Suite 300
London, ON N5X 4E7